Description
LED Strips have been a wildly popular DIY lighting solution for many applications over the years. That is why we are so pumped on our newest LED Strip tech – COB Flexible Strip Lighting.
What is COB?
In the LED world, COB is the abbreviation for Chip on Board, which basically means to package the LED die directly on the circuit board (PCB). The 'Chip on Board' LED used on flexible strip lights is also sometimes called a flip-chip.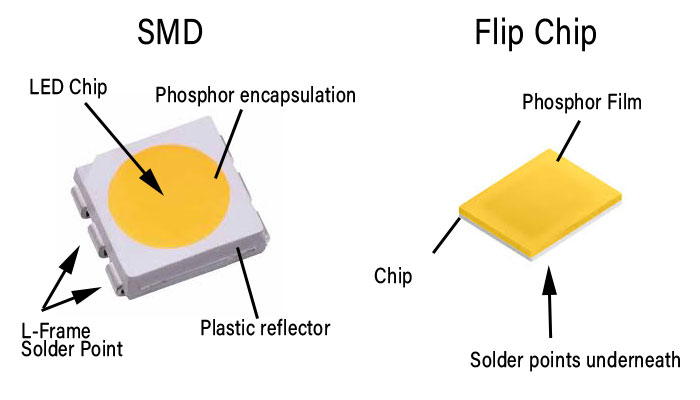 Flip chip LEDs are basically a bare bones approach to LED structure. Take a look at the normal 5050 SMD (surface mount device) LED, it has a bulkier plastic reflector that encapsulates the LED diode itself and then covers that with a phosphor coating. The 'flip chips' that make up COB LED strips cut everything from their design except an LED chip, the yellow phosphor covering, and connection pads. This condensed design leads to a significant reduction in size, allowing them to be packed closer together and further miniaturize LED based lighting.
Advantages of COB LED Flex Strips
Now that you have a basic understanding of how this new light technology has been produced, it is time to see what makes them superior or better for certain strip light applications.
No LED Hotspots, even in tight spaces!
One of the biggest complaints about your traditional LED flex strip is the hotspots throughout the strip. A Hotspot is the term for the brighter areas through a fixture or strip where you can clearly see where the light is coming from. Light is much more inviting and attractive when it looks like a smooth source of light, not a spotty mess.
With 5050 SMD Flex Strips the larger sized diodes are packed close enough so that at a distance the light is spread out and consistent on the surface being illuminated, but if the lights are too close to the surface or the strips themselves are visible, the hotspots are an eyesore that cannot be ignored by the human eye.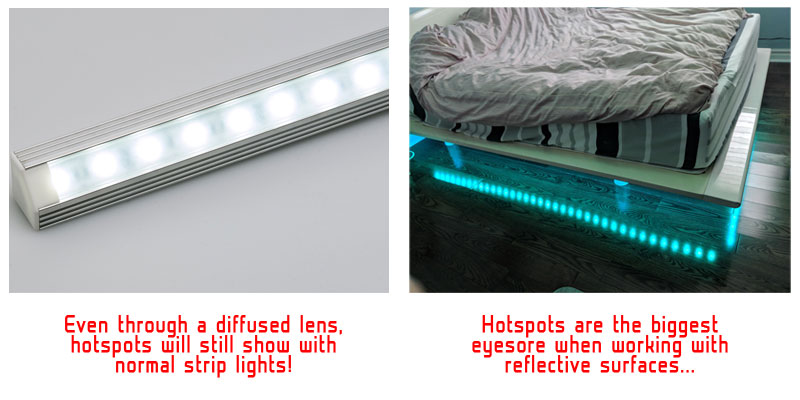 The strips 840 LEDs/M it would be pretty hard to pick out any hotspots on the COB Flex Strips. The strip illuminates a smooth, consistent light from start to finish. The uniform light has no dark spots and is much more attractive to the human eye, giving off a steady light even in the tightest of places. In fact, the only real way to see hotspots is to look at the back of the strip where it is easier to see the individually placed flip chip LEDs. The only other way you are going to see the individual diodes is if you dim the strips down to about 5% light output.  This makes COB Flex Strips ideal for applications where:
The strip itself cannot be hidden from sight.
The surface that is being illuminated is within 2 feet of the strip light.
Reflective surfaces like granite/glass are around.
Those applications where you want a cool, neon effect.
Additional Features
In addition to it's features as pointed out above, COB LED Strip produces around 25% more light output per watts than that of SMD, this increase in light output reduces the overall power consumption required. They are also more flexible and have a greater light distribution angle.
What is Dynamic Tunable White IP68?
Tunable white lighting technology is defined as the ability to control a light source's color temperature output. This is done by manufacturing the lighting strip with different color temperature LEDs. Using a remote control or external control system, you are able to select the desired color of white anywhere between the 2700K to 6000K. We encase this strip in our patented thermal conductive silicone extrusion enabling use for Indoor or Outdoor without the need for added aluminium extrusion for heat sink purposes. 
110W 5 METER DIY HYBRID NEON FLEX PRO DIMMABLE STRIP LIGHT KIT

Product SKU: KITIP68DTW
Voltage: 240V
Wattage: 110W 
Lumens Per Meter: 690lm/m (2700K), 1540lm/m (4000K), 850lm/m (6000K)
Light source: COB Flip Chip
Colour temperature: 2700K to 6000K DTW
Support dimmer: Yes (Included)
Self Adhesive: 3M branded heavy duty grade self adhesive backing tape
Product material: COB Flip Chip Hybrid Neon Flex Silicone Strip
IP rating: IP68 (Strip) IP67 (Driver)
Features: Plug and play DIY Strip Kit for indoor/outdoor use. Choose desired Colour temperature anywhere between 2700K and 6000K with the included remote control. Greenearth's patented Hybrid Neon Flex with Thermal Heat Conductive technology eliminates the need for aluminium heat sink for installation. This world class one of a kind product will save you thousands of $$$ compared with non "out of the box" project quotes.
Included in the box: 5 meters of Dynamic Tunable White IP68 Hybrid Neon COB LED Flex, 1 x 180W Constant Voltage LED driver pre wired with AU flex and plug, 1 x Dynamic Tunable White remote control device and receiver wired and connected to driver, 1 x 5 Year warranty registration card & Installation and maintenance instructions.
Options: Custom made options include longer lead wire from driver to first strip, dimmable by remote control or Wifi smart technology, weatherproof driver
Warranty: 5 Year 
Product dimensions: 5000mm (Strip length)
Payment & Security
Your payment information is processed securely. We do not store credit card details nor have access to your credit card information.